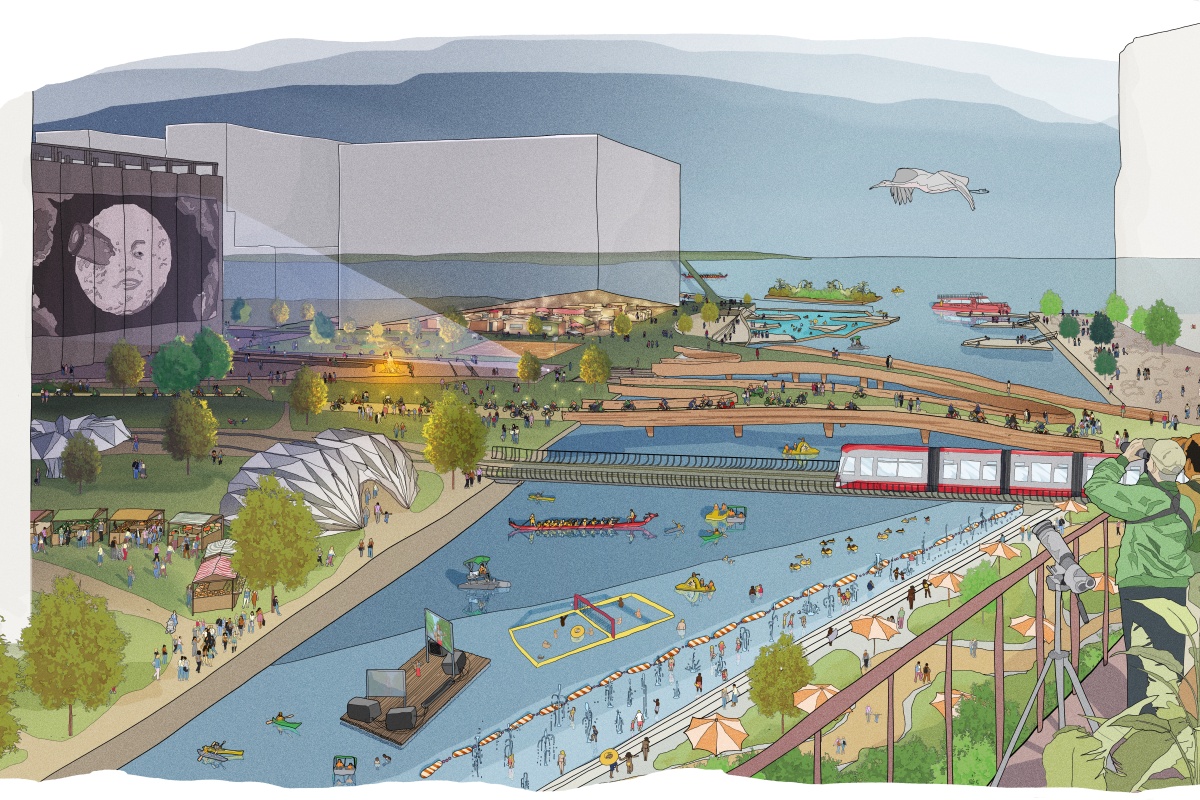 Artist's impression of the Sidewalk Labs development in Toronto
The Board of Waterfront Toronto has unanimously agreed that Sidewalk Labs' plan to create a smart neighbourhood in a disused area of Toronto's Quayside district can proceed to more formal evaluation and further public consultation.
Alphabet-owned Google sibling Sidewalk Labs submitted its draft master innovation and development plan (MIDP) for the initiative in June. Waterfront Toronto, which was created by the Governments of Canada and Ontario and the City of Toronto to oversee the project, highlighted a number of concerns with the MIDP but says it has now "reached alignment" with Sidewalk Labs on key issues, as well as other matters raised by the public during consultations over the summer.
Sidewalk Labs has agreed to make "significant changes" to its proposal.
Sidewalk Labs has agreed to make "significant changes" to its proposal, including:
The amount of land in the proposal has been reduced, from 190 acres (IDEA district) to the 12 acres of Quayside as an initial stage of the project. If Quayside proves successful, the approval of any additional public lands outside of Quayside will be subject to competitive procurement processes.
Sidewalk Labs agreed that all personal information will be stored in Canada. It has dropped the Urban Data Trust proposal and will no longer use the term "urban data".
For vertical development, Sidewalk Labs has confirmed that it will partner with one or more real estate developers, rather than act as "lead developer" as originally proposed. Waterfront Toronto would lead a competitive public procurement process.


Not a done deal
Stephen Diamond, Chair, Waterfront Toronto Board of Directors, said: "Let me be clear: this is not a done deal. There is still much work to do before a final decision."

A statement added: "Later this fall, Waterfront Toronto will meet with the public on the resolution of these key issues, provide clarity on what is being evaluated, and discuss the decision-making process going forward.

"The public have my assurance that there will be more opportunities to have its say and inform the evaluation and any subsequent decisions by Waterfront Toronto and its Board. Early in 2020, there will be another round of public consultation to share and seek feedback on the status of the evaluation."
Sidewalk Labs: "We are encouraged by [the] decision."

A decision about whether to move forward with the MIDP will be made by March 31, 2020, by Waterfront Toronto's Board.
Sidewalk Labs "encouraged"
Sidewalk Labs CEO, Dan Doctoroff, commented: "We are encouraged by [the] decision by the Waterfront Toronto board and are pleased to have reached alignment on critical issues with Waterfront Toronto.
"We want to be a partner with Waterfront Toronto and governments to build an innovative and inclusive neighbourhood. After two years in Toronto and engaging and planning with over 21,000 Toronto residents, we are looking forward to the next round of public consultations, entering the evaluation process, and continuing to develop a plan to build the most innovative neighbourhood in the world.
"We are working to demonstrate an inclusive neighbourhood here in Toronto where we can shorten commute times, make housing more affordable, create new jobs and set a new standard for a healthier planet."
Block Sidewalk, a campaign group launched earlier this year, reiterated its call for the initiative, which has faced ongoing controversy, to be "sent packing". It claims Sidewalk Labs is not a suitable partner for cities.
You might also like: