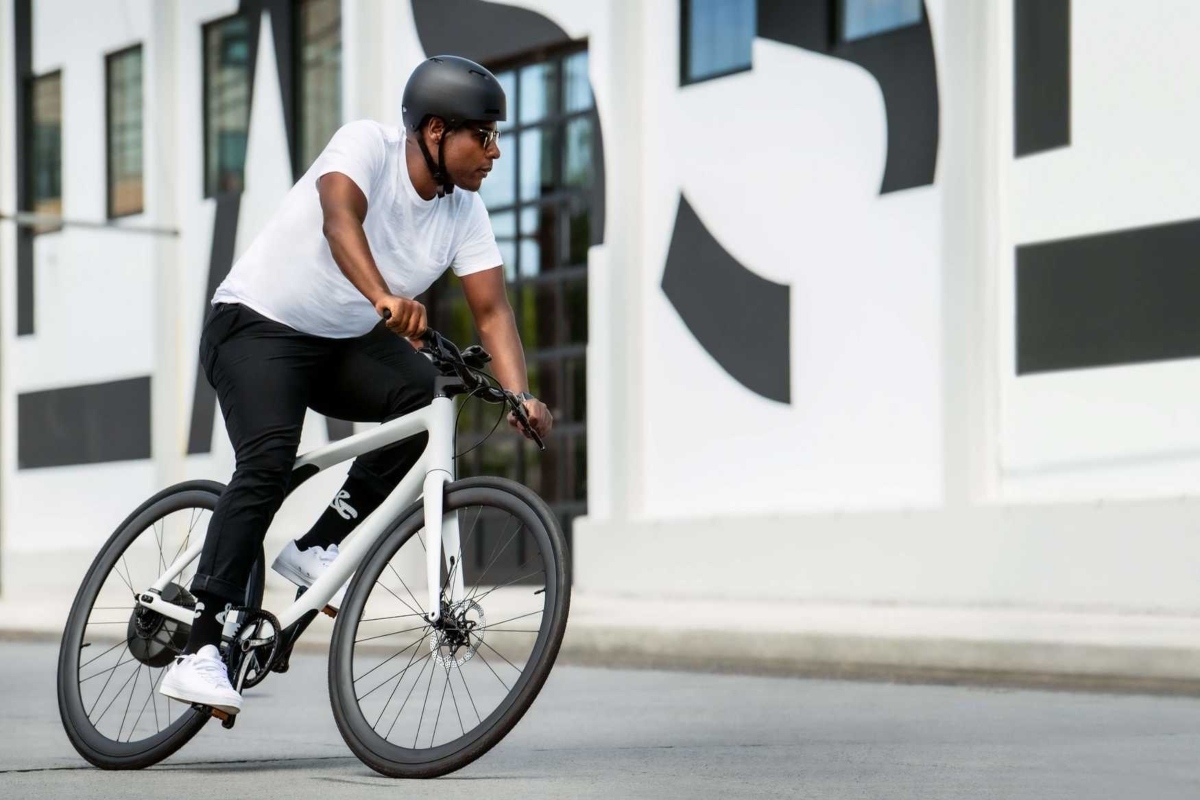 The Eeyo 1 aims to put agility before utility and offer an alternative for urban mobility
Taiwanese smart transportation start-up Gogoro has unveiled two 'ultralight' e-bikes designed to be quicker, and more responsive for city riders.
According to Gogoro, the Eeyo 1 and Eeyo 1s are designed to address the daily challenges of city life and take a different approach to traditional e-bikes by prioritising agility over utility.
Human-electric hybrid
Eeyo 1 is Gogoro's first e-bike project to demonstrate the potential of Gogoro's Eeyo platform. It describes Gogoro Eeyo as a "human-electric hybrid" brand, which has been established to develop innovations in lightweight electric-assisted transportation.
Both bikes are powered by the Eeyo Smartwheel, a self-contained, compact digital drivetrain. Unlike other e-bikes which typically mount the battery on the frame's top or downtube, Gogoro reports it has 'tightly' integrated the motor, battery, sensors, as well as smart connectivity into the rear wheel hub.
With Intelligent Power Assist, the Eeyo Smartwheel utilises a torque sensor that detects a rider's pedal-power and instantly delivers pedal assist that provides increased control, power, and speed that feels more balanced, and natural, said Gogoro.
The company announced it will continue introducing new Eeyo products and solutions and work with other bike manufacturers and brands to accelerate their path to market by helping them quickly integrate Eeyo Smartwheel into a range of new ebikes.
"Ebikes don't all need to be heavy cargo haulers or feel like you're riding a battery, so we created the Eeyo 1 to be ultralight, quick, responsive, and fun," said Horace Luke, founder, and CEO of Gogoro.
"With its iconic open-frame design and new powerful Eeyo Smartwheel, Eeyo 1 is an adrenaline time machine bringing back the pure joy of riding we all once had."
"Ebikes don't all need to be heavy cargo haulers or feel like you're riding a battery, so we created the Eeyo 1 to be ultralight, quick, responsive, and fun"
Eeyo 1 is scheduled to be released in July in the US and Taiwan, and later in the summer in Europe.
Meanwhile, at 26.4 pounds, Eeyo 1s is approximately half the weight of other e-bikes. It features an open-frame design that eliminates the seat tube and uses Kevlar reinforced carbon fibre to increase strength, shave weight, and deliver a smoother ride. The Eeyo 1 comes in at 27.5 pounds.
The bike has, reportedly, been optimised to be easily carried on a rider's shoulder wherever a bike can't be ridden in a city.
Gogoro notes that every part of the Eeyo 1 bikes have been chosen for durability and to be nearly maintenance-free. Using Gates Carbon Drive system, it claims, Eeyo 1 will last much longer than chain drives and is cleaner since it does not require lubrication.
Charging options
Eeyo 1 claims to be simple to charge: the charger, which is included, snaps around the hub.
Additionally, there is a stand charger, sold separately, that allows riders to drop the bike on and display it while charging. With proximity-based auto-lock, once the rider walks away from Eeyo 1, the motor locks, making it challenging to move or ride away.
The Eeyo app also enables over-the-air firmware and software updates to wirelessly deliver the latest features and refinements to the Smartwheel. Gogoro said it has already delivered millions of over the air software updates to its existing Smartscooter customers.
Gogoro aims to help the world's most populated cities distribute and utilise energy by putting power in the hands of everyone. Its other product offerings include the GoShare end-to-end mobility platform and the intelligent energy platform, Gogoro Network, both of which help cities integrate sustainable mobility options into their smart transportation strategies.
You might also like: