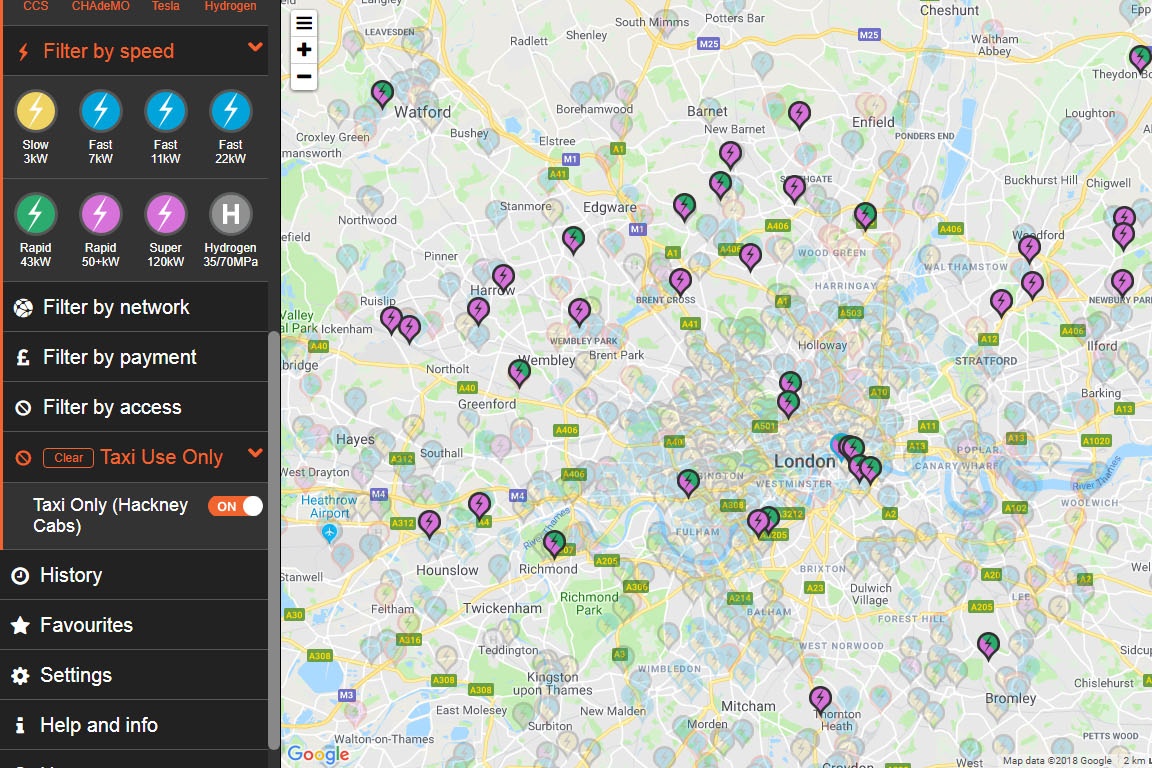 All charge points are available to find across Zap-Map's desktop and app platforms
Following the introduction of a network of 100 rapid charge points for electric vehicles across London, Zap-Map has announced that all points are available to find across its desktop and app platforms.
Zap-Map enables electric vehicle (EV) drivers to locate and navigate to charging points across the UK.
The new network includes 51 points dedicated for use by taxi drivers.
Rolled-out as part of Transport for London's (TfL) air quality plans, EVs are being backed as an important way of improving the capital's air quality, by helping phase out the use of diesel and encouraging the use of zero-emission vehicles.
Working closely with TfL, Zap-Map said it has added a taxi only filter, to its app and desktop, which highlights those new rapid chargers which are for hackney cab drivers only, and which are also for public use.
Dynamic data provides live updates to the charge point with the status checked every five minutes.
According to Zap-Map, the dynamic data updates will help minimise potential queuing times, or trips to out-of-service points, with drivers able to see up-to-the-minute status updates as to whether a charge point is available or not.
Registered Zap-Map users can also assign their vehicle as part of their settings, showing only those points compatible with their model.
"We are delighted to be selected as TfL's mapping launch partner for this rollout of rapid chargers in London," said Melanie Shufflebotham, director, Zap-Map.
"These 100 rapid chargers are in addition to the 1,300 rapid chargers already showing on Zap-Map, and with the live data, this important development will provide both taxi drivers and the wider EV community an increasing number of charging options."
All chargers are available on a pay as you go (PAYG) basis, with the Electric Supply Board (ESB) EV solutions devices requiring drivers to download an app or use an RFID card, while the Chargemaster points offer contactless payment or, for public points, payment via Polar plus RFID card.
Each of the newly available rapid chargers is capable of charging an EV from 0-80 per cent in 20-30 minutes depending on model, increasing the effectiveness of even a five minute charge, said Chargemaster.
"The roll-out of rapid charging points marks a big step forward in the shift to zero-emission vehicles, which the capital desperately needs to clean up our toxic air," added Sadiq Kahn, mayor of London.
If you like this, you might be interested in reading the following:
London electric taxi certified for passengers
e-City technology allows for a range of up to 400 miles including 80 miles' range with zero emissions
Electric black cabs start London trials
London cab drivers will help to collect vital information such as the emissions savings being made from LEVC's eCity technology
City of Oxford aims to be emission free
The city and county councils are beginning a six-week public consultation on the proposals
Read more