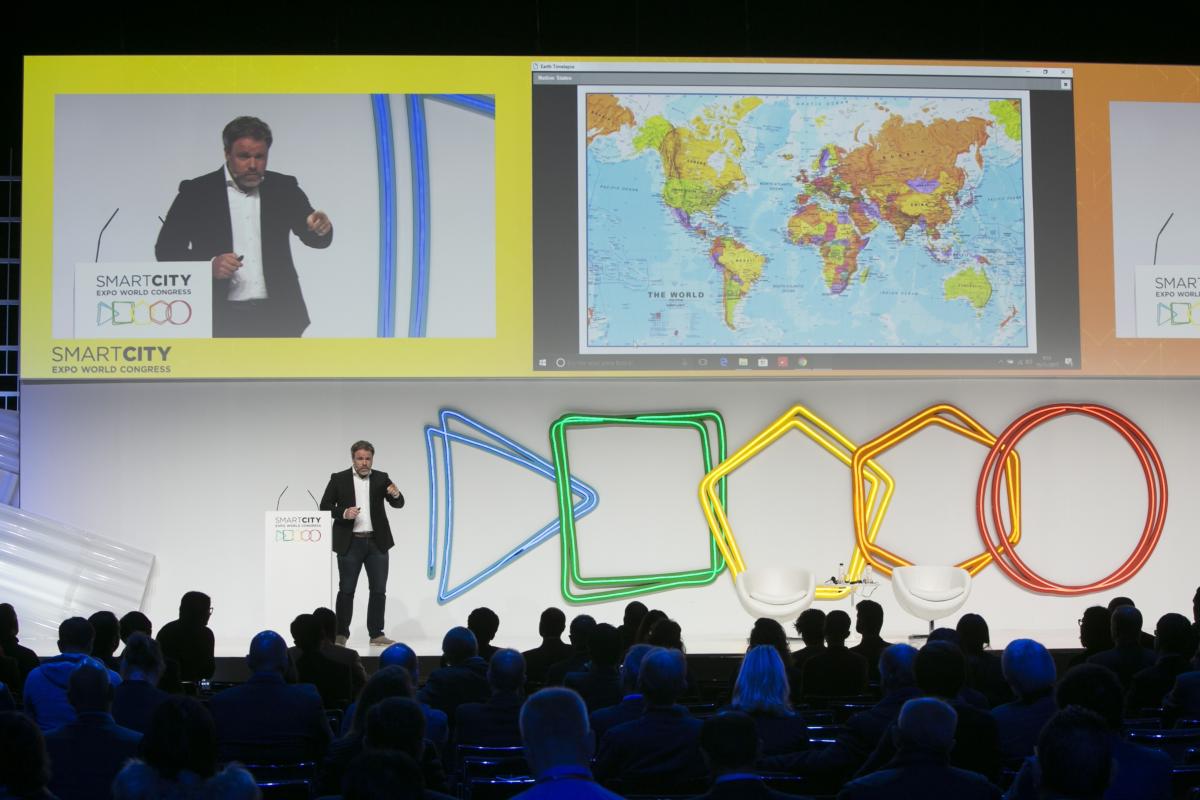 Expo 2017 attracted more than 18,000 attendees from 120 countries
'Cities To Live In' will be the theme of the 2018 Smart City Expo World Congress (SCEWC) which takes place on 13-15 November at Fira de Barcelona's Gran Via venue. The organisers predict a 20 per cent increase in exhibition floorspace with exhibitors spreading over two halls of the Gran Via venue for the first time in its history.
SCEWC will also host the Sharing Cities Summit, an international meeting focused on the growth of collaborative economies.
"As we progress in the development of smart cities throughout the world and we begin to deploy smart solutions we need to keep in mind the ultimate reason that drives all these changes: making cities more livable places for its citizens," said event director, Ugo Valenti.
"That summarises the goal of every effort done in a wide scope of fields from governance to sustainability. It is our responsibility both individually and collectively to take advantage of all the tools at the tip of our fingers to transform cities to make them the better places possible for their current inhabitants and for the future ones too."
The congress programme will be restructured into five themes: digital transformation; urban environment; mobility; governance and finance; and inclusive and shared cities. It will cover topics such as data-driven cities, 5G and the future of connectivity, resilient cities, gentrification, innovative transport systems, multi-level governance, sharing and collaborative economy, circular economy and cities for all.
More than 700 companies will exhibiting at the 2018 event, including Cisco, Deutsche Telekom, Engie, Huawei, Mastercard, Microsoft, SAP, Siemens, Suez and ZTE. Many cities and countries will showcase their projects including Austria, Belgium, Denmark, Dubai, Germany, Finland, Holland, Israel, South Korea, London, Moscow, New York, Norway, Prague, Sweden, and the United States.

In 2018, the event will be jointly held with iWater, Smart Mobility World Congress and the Circular Economy European Summit, creating what claims to be an unparalleled platform for the sustainability industry.

The Sharing Cities Summit will hold its third edition from November 13 to 18 in Barcelona after being previously held in Amsterdam and New York. It will be organised by the Barcelona City Council, the Dimmons research group from the Universitat Oberta de Catalunya, the SCEWC, the cities of New York, Amsterdam, Paris and the rest of the Sharing Cities network.
The summit brings together experts and cities to look at the different types of collaborative economies, how they affect city life and what measures can be taken to boost their positive effects and mitigate their negative aspects.
Nine months before the event, SCEWC organisers Fira de Barcelona said it has already booked 75 per cent of its floorspace, exceeding last year's figures by 20 per cent and taking over hall 2 and part of hall 1 of the Gran Via venue.

In 2017, SCEWC gathered 700 cities worldwide as well as 675 exhibitors and 420 speakers and 18,754 attendees from 120 countries. The international impact of the show has grown with regional events in Curitiba (Brazil), Istanbul (Turkey), Kyoto (Japan), Puebla (Mexico) and Buenos Aires (Argentina).
If you like this, you might be interested in reading the following:
Smart islands define their future
The second Smart Island World Congress 2018 on 23-24 April will focus on strengthening relations between island territories
Barcelona and long-term planning
The message in Barcelona was, with so many challenging issues facing us, all cities have to work together
Countdown to Smart City Expo
Citizen empowerment will be the main theme of this year's Smart City Expo World Congress in Barcelona, which also features its first ever Smart Mobility World Congress