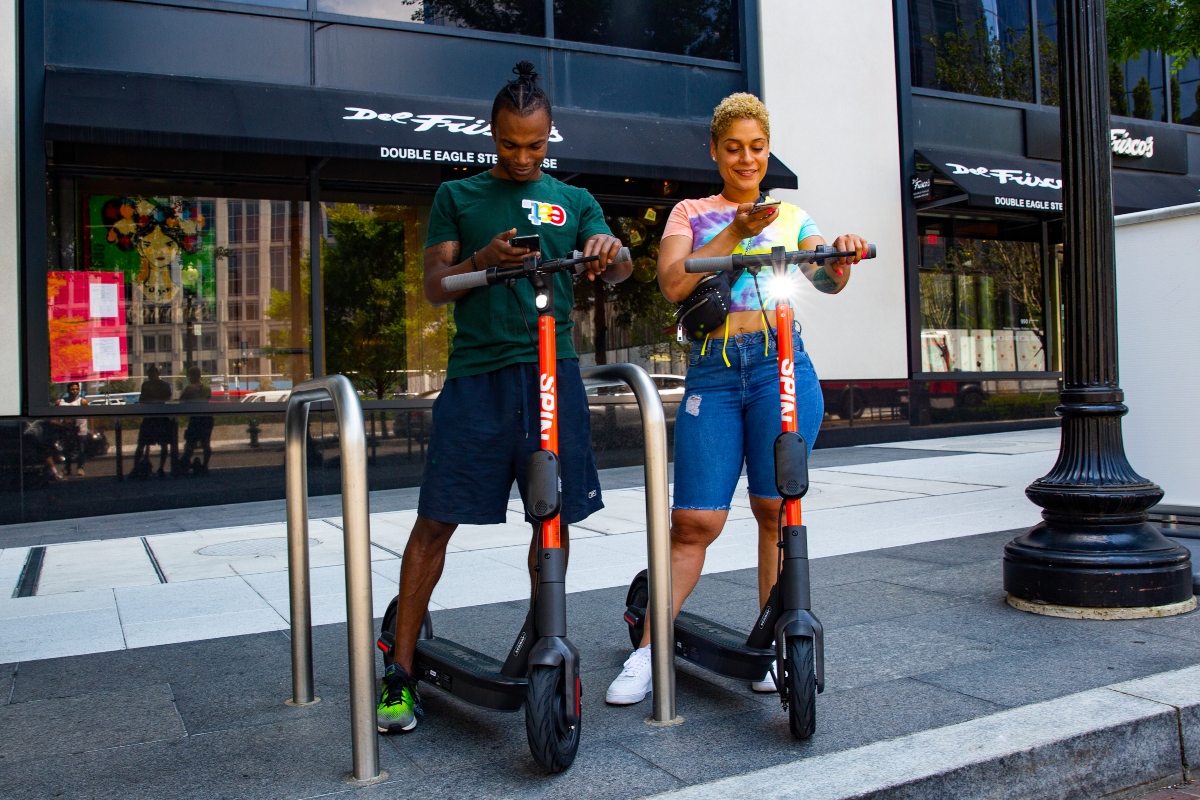 Spin's portfolio of micro-mobility offerings includes electric scooters
Spin, the micro-mobility unit of Ford Motor, has announced its sustainability ambition to achieve net negative emissions, eliminating more carbon than it produces by 2025.
The company will seek to achieve this through a combination of electrifying operations, renewable power, lowering manufacturing impacts, and "aggressive mode" shift away from private automobiles.
Sustainability goal
"Our sustainability goal is part of the commitments we have made to many cities where we operate and we plan to keep them,'' said Derrick Ko, CEO and co-founder of Spin.
"From New York and Chicago to Paris and London, cities around the world are setting ambitious goals to combat climate change. We will rise to the occasion and transform the way we do business."
The company is taking on this challenge by committing to four goals that contribute the most to carbon emissions:
Transition operations to 100 per cent plug-in hybrid and battery electric vehicles
Transition power for recharging to 100 per cent renewable energy
Integrate rider mode shift as a core company sustainability metric
Achieve a minimum 24-month lifetime for Spin vehicles and 100 per cent landfill diversion.
According to Spin, achieving this "ambitious and important" goal is dependent on setting accurate metrics from the start. It is conducting an ongoing internal audit of its carbon emissions across each aspect of the business in line with Greenhouse Gas Protocol.
"If we are truly offering a more sustainable mode of transportation to cities, we should be eliminating more carbon than we produce"
This "carbon accounting" process will provide a baseline understanding of its current emissions performance as a company in manufacturing, operations, and power, to help identify greatest opportunities for improvement.
"We have to hold ourselves accountable for tracking the carbon emitted in providing our service. This is made easier by the fact that we employ a majority of the people deploying, collecting and recharging our scooters, using Spin vans and warehouses," added Shivam Vohra, senior programme manager of sustainability initiatives at Spin.
"Operators relying on all gig workforces – using personal vehicles and charging at home – face a difficult challenge in accounting for these emissions. "If we are truly offering a more sustainable mode of transportation to cities, we should be eliminating more carbon than we produce."
In July, Ford Motor Company released its 2020 Sustainability Report outlining key components that will help the company meet its own goals of carbon neutrality.
Transitioning operations
Ford said it will similarly play a key role in Spin's plans especially in meeting its goal of transitioning operations vehicles to 100 per cent electrified. Spin plans to begin transitioning its vehicles used to deploy and collect scooters to Ford Transit plug-in hybrid electric vehicles (PHEVs) in 2021 in Europe and upcoming Ford Transit fully battery electric (BEV) in 2022 in the US, with 100 per cent adoption across all Spin markets by 2025.
Ford claims these vehicles not only minimise reliance on fossil fuels, but are also equipped with powerful technology to track critical sustainability data, facilitate more efficient operations, and even automatically enter electric-only mode within cities' low emission zones and downtown core.
You might also like: